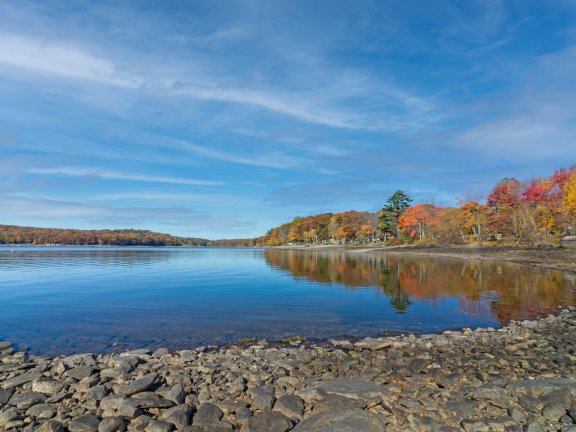 Pocono Mountains
Pocono Mountains Bolsters Accountability As It Validates The Visitation Impact Of CPC Campaigns
Pocono Mountains Visitors Bureau (PMVB), established in 1934, is the official destination marketing organization for the four counties of Carbon, Monroe, Pike and Wayne in northeastern Pennsylvania.
In 2016, PMVB's digital marketing plan included paid advertisements in Google, Bing and Facebook. From May 2016 through January 2017, PMVB ran more than 25 million impressions across these three channels to attract new visitors to Pocono Mountains. Of those impressions, 53% were placed with Google, 19% with Bing and 27% on Facebook.
Challenges & Goals
PMVB traditionally measured digital media campaign success by tracking impressions and clicks, and calculating cost-per-click (CPC) and click-through rates (CTRs). These metrics, however, provided limited insight into the impact of their various campaigns actual visits to their destination. As a result, they also faced challenges determining the true cost-effectiveness of their digital programs., The bureau also faced increased scrutiny from local stakeholders regarding the effectiveness of CPC campaigns in driving visitation to the Pocono Mountains region.
In early, 2016 PMVB partnered with Arrivalist to:
Measure the impact and effectiveness of PMVB's digital media program on actual visits from leisure travelers to the region
Collection actionable insights that would help them better optimize campaigns and boost ROI
Layer in arrival data with existing visitor research to illustrate the relationship between media cost per arrival and return on arrival
Approach
Using Arrivalist's patent-pending location analytics platform, PMVB gained new insight into the number of arrivals that followed specific media investments in Google, Bing and Facebook. Additionally, PMVB answered three key questions by taking a more holistic approach and using Arrivalist's proprietary metrics:
How did PMVB's partners rank in APM or efficiency? (APM – Arrivals per 1000 impressions)
Which PMVB media partner drives the greatest economic impact per arrival? (CPAR – Cost Per Arrival)
What is PMVB's expected return on media spend per arrival for each media partner? (ROA – Return on Arrival)
Results
After analyzing the Arrivalist data and layering in research from Longwoods International, the marketing team at Pocono Mountains realized that both Bing and Facebook had delivered strong performances despite not appearing to be as competitive as Google in traditional metrics like CTR). Although the Bing and Facebook buys lag behind Google significantly in CTR, both proved to be competitive values when comparing arrival volume, APM and ROA.
| | | | |
| --- | --- | --- | --- |
|   | Google | Bing | Facebook |
| ROA (Return on Arrival) | 2.93 | 3.81 | 4.02 |
| APM (Arrivals per 1,000 Impressions) | 2.81 | 3.32 | 2.80 |
| Arrival Volume | 522 | 345 | 412 |
Findings
Because of their analysis, PMVB is considering a more balanced media buy for future CPC campaigns across the three major platforms and pulling additional media budget from underperforming portions of its marketing program to bolster future buys with Bing and Facebook.
"The Arrivalist data helps me distribute my digital media budget in future campaigns. It has boosted my organization's accountability with local stakeholders and allowed our team to exercise more freedom in the strategic decision process."

– Brian Bossuyt, Director of Marketing | PMVB
About Arrivalist
Arrivalist is a Location Attribution Analytics platform that empowers marketers with new metrics to evaluate the link between marketing exposures and market visitation (Arrivals). The company's patent-pending technology is used by DMOs across the country, including California, Virginia, Kansas, New Orleans, Palm Beaches, FL, and more. The company analyzes big data to evaluate which media exposures motivated consumers to travel to new destinations. This analysis yields powerful new insights as to how—in the aggregate—media displays influence travel behaviors.
Learn More
To discover how Arrivalist can help you compete and succeed in your marketing efforts, please contact us today at [email protected].