The World Series and Out-of-Town Visitation
Does the World Series Drive Out-of-Town Visitation to Host Cities?
The 2017 World Series, played between October 24, 2017 and November 1, 2017, was the 113th edition of Major League Baseball's championship series. The series was played between the National League Champion Los Angeles Dodgers and the American League Champion Houston Astros. The World Series is a best-of-seven playoff with each team hosting games in the series, with the greater number of games going to the team with the best season record. In 2017, with 104 games won during the season, the Los Angeles Dodgers took 'home-field advantage' with a total of 4 games to be hosted at Dodgers Stadium in downtown Los Angeles, including Games 1 and 2. Games 3, 4 and 5 would be held at downtown Houston's Minute Maid Park.
Using patent-pending location attribution technology, Arrivalist measured the visitation to the host stadium for World Series Games 1 – 4 with a goal of providing insight into the geographic origin of visitors to each game.
Approach
The Arrivalist 3.0 platform measures the location change of a holistic, representative panel of 120MM+ domestic mobile computing devices with a location accuracy of 30 feet or less. Arrivalist technology determines the home location of a panel device and measures the location change from the time the device leaves the home, until it returns. With this capability, the platform determined what percentage of visitors to each of the World Series games measured were from the local area versus those that came from out of town.
Insights
Games 1 thru 4 of the World Series did not draw a significant volume of out of state visitors, with just 13.5% of visitors attending Game 1 originating from outside California. Less than half that amount was from outside the state for Game 2. Results were very similar for Games 3 and 4, played in Texas, where 13.8% and 6.7% of visitors, respectively, originated from out of state.

For World Series Games 1 thru 4, non-local intrastate visitors made up a large volume of the total visitation measured, especially in Texas where nearly 3 in every 4 in attendance originated from outside Harris County, home to the Houston downtown area.

Few Astros fans traveled to Los Angeles for Games 1 and 2, with just over 2% of those in attendance for the first two games originating from Texas.

Even fewer Dodger fans traveled to Houston for Game 3, with just 1.6% of California residents in attendance.

Astros fans were willing to drive long distances to see Games 3 and 4 in Houston; nearly 30% of those in attendance drove 200 miles or more.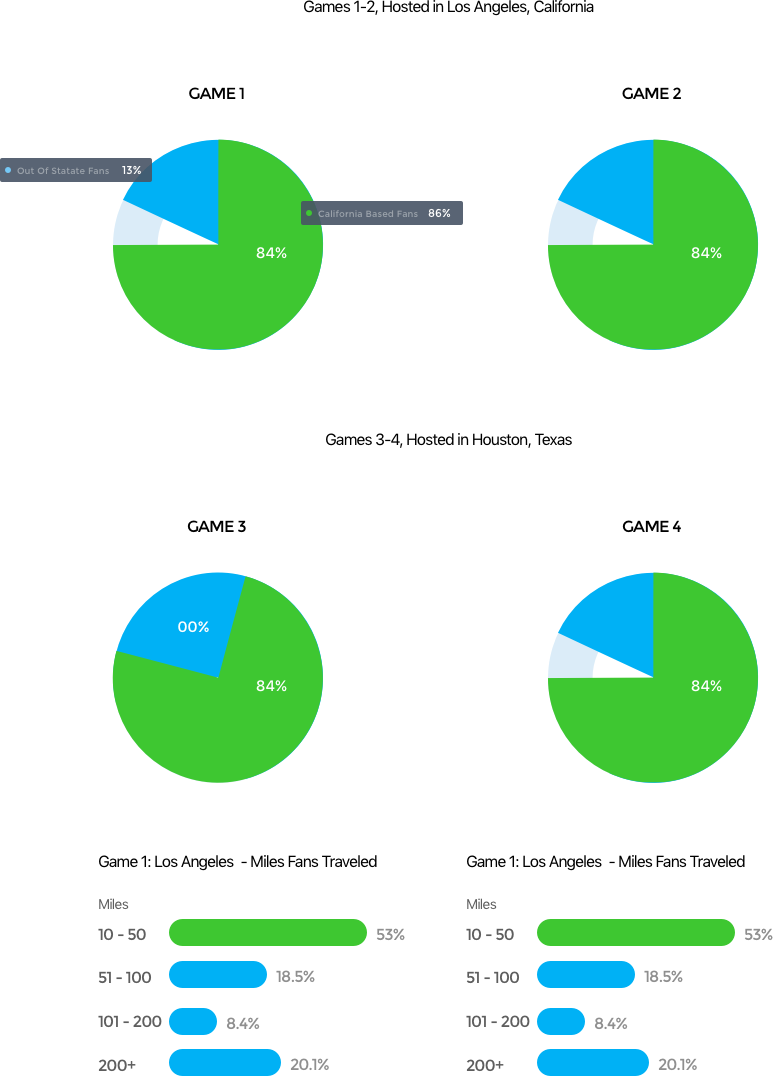 Conclusions
A larger sample size of World Series games would be necessary to definitively answer the question as to whether this sporting event provides a large influx of out of town visitors to host cities. However, it can be concluded that games 1 and 2 in Los Angeles did not provide a signi cant number of visitors from outside the metro area. Furthermore, it does not appear that the visiting team, the Houston Astros, brought many fans with them for the opening of the series. Games 3 and 4, in contrast, were mainly attended by fans from outside of the immediate Houston downtown area ─ with roughly 1/3rd of those in attendance having traveled 200 miles or more. These visitors, however, still largely originated from within the state of Texas. Nevertheless, it is logical to conclude the World Series did result in a healthy boost to out of town visitation to the Houston downtown area.
Based on this small sample size, the World Series is highly dependent on the geographic spread of the hosting team's fan base to drive out of town visitation.
About Arrivalist
Arrivalist is a Location Attribution Analytics platform that empowers marketers with new metrics to evaluate the link between marketing exposures and market visitation (Arrivals). The company's patent-pending technology is used by DMOs across the country, including California, Virginia, Kansas, New Orleans, Palm Beaches, FL, and more. The company analyzes big data to evaluate which media exposures motivated consumers to travel to new destinations. This analysis yields powerful new insights as to how—in the aggregate—media displays influence travel behaviors.
Learn More
Learn how Arrivalist can help maximize occupancy and revenue of your hotel or resort